NAHCO SIGNS, NEW CONTRACTS WITH QATAR, AZMAN, SUPPORTS GOVT. EXPORT DRIVE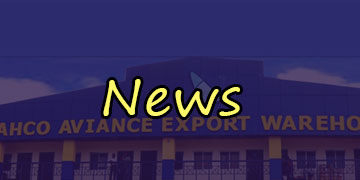 For its exceptional top of the range handling services, Nigeria's foremost and leading ground handling service provider, Nigerian Aviation Handling Company Plc, NAHCO Plc, has won the keenly contested handling contract of Qatar Airways, for another five years.
NAHCO's Group Executive Director, Business Development and Commercial, Prince Saheed Lasisi, in announcing the development, expressed excitement on the feat, describing it as a boost for both companies, as NAHCO is primed to continue its excellent service delivery to the airline. ''With the new contract, which runs for five years and coupled with the additional frequencies of Qatar flights to Nigeria and Ghana, we are glad to go even further to provide the top -notched services for which we are known and have offered the airline for the past nine years. Also, the recent addition of more Ground Support Equipment, GSE, especially the brand-new dollies, Qatar Airways and our other clients will experience the best available handling service''.
The newly renewed contract is all-encompassing, as it will see NAHCO provide passenger, cargo and ground handling services to Qatar Airways, it also includes the provision of crew transportation and other ancillary services to the respected airliner.
Also, NAHCO has signed a new contract with AZMAN Air on its international route, in addition to the previously held contracts for Azman's domestic operations. Azman has recently been granted approval to commence international operations with its newly acquired A340-600 series. NAHCO is well positioned and excited to help Azman Air succeed as it goes international.
These recent developments are pointers to NAHCO's leadership position in the nation's ground handling business.
In another development, Group Managing Director of Nigerian Aviation Handling Company Plc, Mrs. Olatokunbo Fagbemi, has expressed NAHCO's readiness to work with the National Trade Facilitation Committee of the Federal Ministry of Industry, Trade and Investment to improve the nation's capacity for export. She made the statement during a visit of the Committee on an inspection tour of the Company's facility.
The committee, led by its Chairman, who is also a Director at the Federal Ministry of Industry, Trade and Investment, Mr. Aliyu Abubakar, had earlier been briefed by NAHCO'S team on the Company's activities and processes. NAHCO's Cargo Services Manager, Mr. Femi Fasuyi had taken the committee members which included representatives of NAFDAC, NITDA, NEPC, NDLEA, FRSC, FAAN and of course the Federal Ministry of Industry, Trade and Investment through a power point presentation on all that needed to be known about the Company, NAHCO.
In his remarks, the Committee Chairman and leader of the delegation, Aliyu Abubakar urged NAHCO to continue on the path to boosting export with the creation of additional cold rooms and storage facility for agricultural- products.
NAHCO Plc is a Nigerian diversified enterprise with interests in aviation cargo, aircraft handling, passenger facilitation, crew transportation and aviation training.
The company currently serves several airlines across the major functional airports within Nigeria, and handles the largest chunk of domestic, foreign and cargo airlines.
In 2005, NAHCO was privatized and listed on the Nigerian Stock Exchange in 2006. The Company is now owned by over 80, 000 shareholders, as well as local and institutional investors.