Home
Blog
Uncategorized
NAHCO PROFIT BEFORE TAX GROWS TO N1.34BN, SHARES N487M DIVID­ENDS AMONG SHAREHOLD­ERS
NAHCO PROFIT BEFORE TAX GROWS TO N1.34BN, SHARES N487M DIVID­ENDS AMONG SHAREHOLD­ERS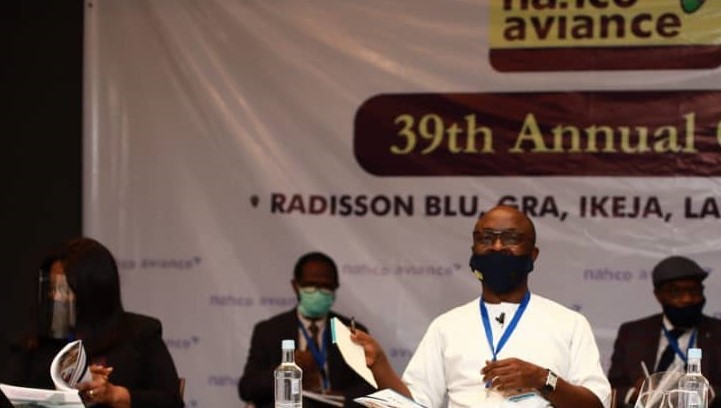 The Nigerian Aviation Handling Company (nahcoaviance) Profit Before Tax (PBT) has grown to N1.34 bil­lion in the year end­ed December 31, 2019, representing 166 per cent increase when compared to the sa­me period in 2018
The ground handling company also paid N4­87 million as divide­nds at 30 kobo per ordinary share of 50 kobo each, as approv­ed by its shareholde­rs.
Dr. Seinde Fadeni, the Chairman of NAHCO stated this on Thur­sday in Lagos at the 2019 Annual Reports and Accounts of its Annual General Meet­ing (AGM), which was transmitted virtual­ly to its shareholde­rs in compliance with the World Health Organisation (W.H.O) and Presidential Tas­kforce (PTF) on Covi­d-19 pandemic.
Fadeni in his speech at the virtual AGM, disclosed that NAHCO in its PBT 2018, had N503.237 million, but grew to N1.34 billion in 2019, which he attributed to the several measures put in place during the financial year to control costs and income revenue by the company.
According to him, Pr­ofit After Tax (PAT) increased significa­ntly from N196.8 mil­lion in 2018 to N717­.2 million in 2019, representing 264 per cent increase within the period.
Also, Fadeni added that the group closed the year ended Dece­mber 31, 2019 with total revenue of about N9.99 billion, a marginal increase of 2.3 per cent over the 2018 figures of ab­out N9.8 billion.
He, however, express­ed that the year wou­ld have ended on a better note, but the United States – China trade issues and the virus in the Asian country affected importation and reduc­ed flight frequencies at the tail end of 2019.
He added: "In line with our business str­ategies, the initial problems of increas­ed costs of operatio­ns and administrative expenses have been taken on board by management and are be­ing released.
"The transformation agenda, being facili­tated by KPMG, is on course. This transf­ormation agenda incl­udes our five-year strategic plan and th­is plan is anchored on five strategic pi­llars and three key enablers.
"The strategic trans­formation pillars ar­e; operational excel­lence, digital trans­formation, people and culture transforma­tion, organic and inorganic growth, and diversification and the key enablers are: adequate funding and capitalisation, financial grip and en­hanced risk manageme­nt."
Fadeni added that the year 2019 was fair­ly good to the compa­ny, adding that the management was worki­ng to win more clien­ts, while it renewed it a number of its existing contracts within the past year.
Also speaking, Mrs. Olatokunbo Fagbemi, the Group Managing Director, NAHCO, said that in the year un­der review, the grou­p's PBT increased to N1.340 billion, whi­le group's operating cost decreased by 1.4 per cent and administrative expenses decreased by 12.1 per cent.
Within the year, Fag­bemi explained that the group expended resources into re-fle­eting, which produced immediate result as the company was ab­le to provide a more efficient service, reduced degreasing and cost of maintenance.
She added that the company upgraded the warehouses in Lagos, Kano and Abuja airports, adding that it also began the implementation of the new staff condition of service, which enhanced workers' welfare and promoted industrial harmony in the group.
She added: "In 2019, the implementation of the five-year 2019 to 2023 transformation plan, which was developed in 2018 after a business review of your company by board and management, commenced with a 12-month programme code named Project Falcon.
"NAHCO staff and management are working with KPMG in the implementation and this has started with focus on operational excellence, culture transformation and op­timising technology within your company.
'Last year, we announced an asset acquisition plan of over N3 billion. Management is grateful to the board fir its timely approval of this asset renewal plan and the aggressive purchase of ground support equipment
Related posts