NAHCO MOVES TO HELP NEPC, AIRLINES BOOST EXPORTS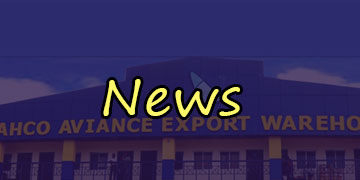 As part of its efforts to boost the Nigerian economy through exports, leading ground handling company, nahco aviance is ready to help exporters and airlines move their goods and products abroad.
Speaking at a meeting with representatives from the Nigerian Export Promotion Council (NEPC), airlines, exporters and other stakeholders, Group Executive Director, Business Development and Commercial, Prince Saheed Lasisi said NAHCO is poised to provide enabling environment for exporters' businesses to grow optimally.
Although, Lasisi said that, based on the feedback the company gets, the exporters have been having some issues with government agencies, in terms of facilitating their services in a timely manner; NAHCO has always intervened whenever any issue comes up.
Stating that over 80 per cent of the foreign airlines are NAHCO customers, the G,ED pointed out, that most export cargoes traditionally, still come to NAHCO. Lasisi said that NAHCO has lots of advantages and all the certificates required to export to the European Union, United Nations and other parts of the world.

On agricultural exports, Lasisi said "We also got a letter from the Quarantine department at the Ministry of Agriculture that all agric exports are supposed to pass through NAHCO. So at NAHCO, we know that we have a whole lot of advantages.
"All we have to do is to make sure that our services are seamless in a timely manner. We also encourage the exporters through our airlines to ensure that they have the volume they require." He assured that NAHCO is in regular communication with the exporters and other stakeholders.
Speaking at the meeting, representative of NEPC, Mrs. Francisca Odega advocated for the increase of exports so as to boost the economy. She said government had earlier made moves to support export but that such moves were channeled through the agencies.
According to her, for export to grow optimally, three key areas must be addressed which include: freight charges reduction; Ease of Doing Business, which creates conducive business environment; and cooperation among operators.
In his remarks, regional cargo manager, Turkish Airlines Sevket Battal advised Nigerian exporters to always plan ahead as it gives airlines room for proper cargo management. He commended NAHCO for always cooperating with Turkish Airlines and that the company is doing well in that area.
"We have digital cargo session. We are with NAHCO digital team. We have the special cargo section which we have changed to Cargo in care. NAHCO has a special cargo department and they are improving the cargo services in line with our demands. Recently, we brought a special design container with batteries and Central cooling system. We are improving together and we are guiding them. They are cooperating with us and that is why we are together for long."

Also speaking at the meeting, managing director /chief executive officer of FOB Global Logistics, Mr Oluwajimi Jimi Adebanke identified Nigeria cargo market as a huge one.
He therefore, urged operators to always cooperate so that they can easily tap into the benefits inherent in the large market.
Related posts