Dr. Seinde Oladapo Fadeni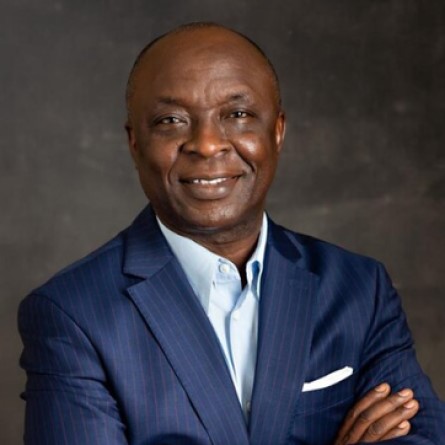 Chairman
Dr. Seinde Oladapo Fadeni
Dr. Seinde Oladapo Fadeni, chairs the Board of the Nigerian Aviation Handling Company Plc (NAHCO plc), he is also the founder and serving Managing Director/Chief Executive Officer of GMT Energy Resources Limited, a private indigenous multi-billion Naira company incorporated in Nigeria with offices in Lagos and Port-Harcourt with an overriding national and global outlook.
He is an astute businessman with experience spanning close to three decades with interests in strategic sectors of the economy including oil & gas, real estate, hospitality, maritime and real sectors.
Fadeni sits on the Boards of a number of other companies, including MCI FZE Yard Development Limited (a joint venture between MCI FZE and Samsung Heavy Industries Nigeria where Total Upstream Nigeria Limited and her partners integrated their EGINA FPSO's 6 topside modules); Badagry Ship-repair Maintenance Engineering Consortium (BSMEC) and Elect & Chosen Limited (a reputable interior design and furniture supply company).
Known for his incredible skill in perceiving business needs and creating solutions to address the needs, Fadeni had a network of high-value contacts in international and domestic business communities including local and global regulatory agencies.
Fadeni had his higher education at the University of Lagos where he bagged a Bachelor of Science Degree in Biology. He has attended various seminars and courses all over the world, including the Owners/President Management (OPM) Program organized by Harvard University, a citadel of learning devoted to the development of leaders in many disciplines who make a difference globally.
He is also an Associate Member of the Nigeria Institute of Management (AMNIM), Nigerian Institute of Credit Management and Port Harcourt Chamber of Commerce and Industry. He has received several awards from professional and business bodies in recognition of his contributions to nation-building.
The new NAHCO Chairman is God-fearing, loving and caring family man with strong commitment and devotion to philanthropic activities, the flagship of which is The Chris Alice Foundation that gives scholarship and other forms of support to students who scored up to 3.5CGPA and above, widows, senior citizens and orphans.