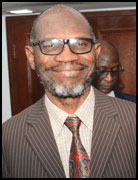 Mr Tajudeen Shobayo is an alumnus of University of Liverpool, UK, and a Fellow of the Institute of Chartered Accountant of Nigeria (ICAN). In the course of his illustrious career, he has attended several professional courses in Nigeria, Netherlands, UK and United States in Economics and Valuation, Opportunity/Project Management, Contract Management, Capital Budgeting, Fraud and Risk Management and Strategic Cost Leadership.
He had also had training in Advanced Negotiations, Risk and Decision Analysis, Deal Implementation, relationship Management, Non-Operated Ventures Management and Health/Safety/Environment and Leadership. He is a result-driven, efficiency–conscious finance–cum–commercial professional with extensive experience in corporate finance, decision analysis, strategy and planning, opportunity identification and maturation, negotiation and stakeholder management with demonstrated capacity to add value towards corporate objectives.
His 38 years of work experience spans public and private sectors in oil & gas, education, real estate, and agriculture and management and board levels. He is married with children. His hobbies are reading and football.