Home
Blog
Uncategorized
CHINET Aviacargo conference: NAHCO GMD calls for expansion of airport infrastructure
CHINET Aviacargo conference: NAHCO GMD calls for expansion of airport infrastructure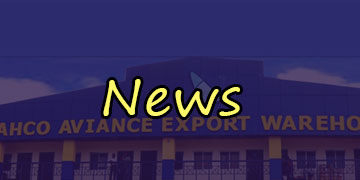 The Group Managing Director/CEO of Nigerian Aviation Handling Company (NAHCO) Plc, Mrs. Olatokunbo Fagbemi, has stressed the need for Nigerian airport infrastructure expansion. She specifically called for the expansion of the cargo ramp at Murtala Muhammed International Airport, pointing out that the increasing e-commerce comes with more needs for airport infrastructure expansion.
In her presentation on the Role of a Handling Company in Air Cargo Business at the recently concluded CHINET Conference held at the Lagos Marriott Hotel, Ikeja. Mrs. Fagbemi, stated that this will in no doubt be of immense benefit and value to shippers, consignees, the agents, the airlines, the airport, the aviation industry, and the nation. A visit to any cargo terminal outside this clime will show-case the reasons why the demand for an expansion, she said.
She however regretted that despite their critical and vital role in the air cargo ecosystem, the ground handling companies are not being accorded their dues. She said they are underpaid by airlines and get blamed for any challenge within its warehouses whether it is due to airline or Government agencies etc. She said the ground handlers are looking to government for support with their persistent calls for duty waivers, just as it applies to airlines, adding that this is yet to be acceded to.
The GMD emphasised the need for standardisation of the various elements of the air cargo business, stressing that it would enable the actualisation of the desired air- cargo industry in Nigeria.
She enjoined the Government and stakeholders to work together to create a better operating environment and an effective framework to support cargo export so that the planes would stop flying from Nigeria empty.
The GMD stated further that: "In our role as essential service providers in the aviation industry, we supported air cargo all through the lockdown occasioned by Covid-19 and after, even at great risk to our personnel. The evolution of freighter, that is, passenger planes being used for cargo, has brought new challenges, and translates to more manpower and resources deployment". She stated that NAHCO has built warehouses, invested in facilities and equipment capable of processing all sizes and types of cargo.
She said the company has special storage facilities and trained personnel to handle general as well as special cargo such as perishables, life animals, dangerous goods or radio-active cargo and valuables. She noted also that all cargo entering the warehouse is controlled by the Galaxy system to ensure smooth processing and seamless integration of all information about each cargo and thereby ensure airline and airline customers can track their cargo online real-time and accurately.
According to her: "as part of our warehousing services, we have green energy stackers for efficient management of the warehouses and forklifts of different tonnages for on time acceptance and delivery of cargo.
"We provide security services for cargo by ensuring all exports are duly scanned using Explosive Trade Detection (ETD) Technology and the integrity of all imports is ascertained and maintained. We also ensure proper management of airline assets, such as Unit Load Device (ULDs".