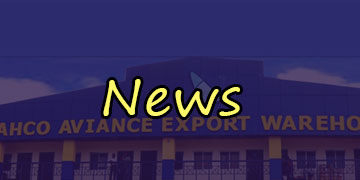 The Nigerian Aviation Handling Company (NAHCO) Plc, at the weekend, replied the erstwhile managing director of its subsidiary, NAHCO Free Trade Zone (FTZ), Mr. Baba Yusuf who levelled series of allegations against it, saying they are baseless and malicious.
The company, which expressed surprise that the House of Representatives was going ahead with the hearing on the allegations submitted by Yusuf even when all parties knew that the case is in court, asked Yusuf to wait for court judgment on the matter rather than acting in court contempt.
Managing director of NAHCO, Mrs. Olatokunbo Fagbemi, who led other top managers of the company to brief Journalists at the NFTZ, said throughout his stay in the company, Yusuf did not at anytime, raise any of the allegations as issues of concern or requiring Board or management attention.
She said he resigned his appointment in 2018 after spending seven months as MD of NAHCO FTZ, adding that 'he was responsible for setting up the NAHCO FZ business development process, warehouse farcicalities and controls as well as having full operational accountability for it and oversaw everything he is now making malicious and false claims about'.
Fagbemi said Yusuf attempted and failed to force NFZ to pay him an underserved severance package of N125,900, 000 as his performance bonus for seven months of non-performance as the MD of NFZ.
"He then through his lawyer threatened reputational damage to NAHCO by petitioning different investigative bodies to review his tenure and file an action in court for recovery of his perceived claim, warning that his action would materially damage the corporate reputation and operations of NFZ.
"Rather than pursue his claim in court as he wrote, he has resorted to several act of blackmail, arm twisting and extortion by writing various petitions with baseless allegations to several agencies and arms of government. These allegations have material implications for national security. We state categorically that we have nothing to hide but we are not in the habit of paying for work not done or value not derived.
"We have opened our books and facilities to several investigative agencies and regulators inclusive of NEPZA following the petition and these agencies have written reports on their findings which should aid the House of Representatives committee on Public petitions' enquiry, rather than the ongoing false and misleading media reportage.
"Our operations are properly regulated by the relevant regulatory and governmental agencies, such as Corporate Affairs Commission, the Securities and Exchange Commission (SEC), Nigerian Customs Service, Nigeria Drug Law Enforcement Agency (NDLEA), Department of State Services (DSS), Nigerian Police Explosive Units, amongst others.
"We are ready and willing to cooperate with any agency in carrying out whatever investigations that may stem from Mr. Baba Yusuf's tirade as the matter is presently before court, with the next hearing scheduled for 20th October, 2020", Fagbemi said.
Yusuf had raised petition to the House of Representatives on allegations that officers of NAHCO collaborate with criminals to deliberately import arms, drugs and money laundering and that the warehouse is used by officers to store illegal arms and money laundering but Fagbemi insisted that 'these are unfounded, spurious and weighty allegations intended to smear the corporate image of NAHCO'.
"NAHCO operates in highly controlled environment under Nigeria Customs Service, NDLEA, DSS, FAAN AVSEC and NCAA. Keys to our warehouses are held jointly by us and the NCS. The Video shown on the media broadcast is of no consequence and it shows empty containers parked at designated locations in the open bay. As a responsible corporate organization, NAHCO will not succumb to extortion by Mr. Yusuf.
"We would like state that NAHCO'S silenced on the matter is in no way an acceptance of guilt, rather, we are guided by the advise of our solicitors not discuss the details of a matter which is already before a court of law, where in due course, Baba Yusuf must provide facts on the allegations levelled. We also have it in good authority that the fulcrum of the attacks by Mr. Yusuf are all tied to an attempt for a hostile takeover of the operations of NAHCO and NFZ by a faceless group using him as their front.
"We state this categorically because these attempts are all at variance with his praise of the strength with which NAHCO is going to greater heights. We are available to provide context, evidence or a detailed narrative within the context of what we are permitted by law to share. We would also like to seize this opportunity to assure our clients that the safety of their business and reputation is of utmost importance to us', she added.
On the allegation that a staff of the company was involved in a case of N8 billion, Fagbemi said the company is awaiting the report on the investigation from Nigeria Custom Service, adding that NAHCO has also written to the Police about it and would take disciplinary action against the staff after receiving report from the Custom.
On the claim of severance package of N125,900, 000 by Yusuf, the company Secretary, NAHCO FTZ, Mrs. Olaitan Ashipa, explained that he (Yusuf), was paid N5 million upfront as housing allowance when he assumed office, adding that after an evaluation of his performance, it was discovered that he was not entitled to the amount he claimed.
She also disclosed that Yusuf would refund N250,000 apart from the company's Laptop in his possession.
Also speaking, Legal Adviser to NAHCO, Norison Quakers, said the allegations cannot be substantiated, noting that NAHCO has gone to court and will not be deterred by the campaign to smear the image of the company.
"The facts and matter before the National Assembly are already before the court. We went the National Assembly in March notifying them that the matter is in court, they have responded, but it appears that the National Assembly is going ahead with the hearing , this is a brazing regard for the sanctity of law", he said.